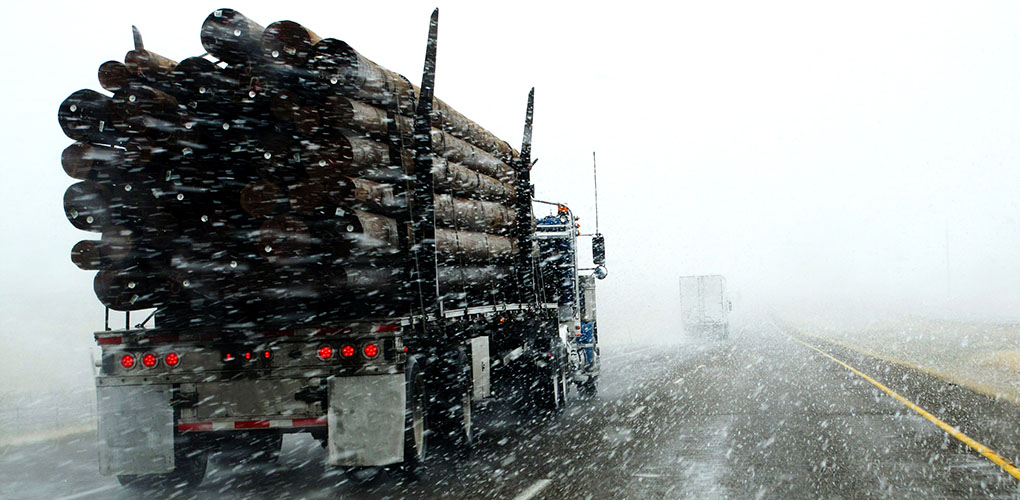 Commercial truck drivers are faced with plenty of challenges during the best of weather, and driving a loaded or unloaded big rig is even more challenging when operating in bad weather. Driving in snow, wind or rain is bound to make driving more difficult; reduced handling, poor visibility, pockets of black ice and cross-winds, just to name a few. Let's share a few commercial truck driving safety tips for bad weather driving:
Prepare for the trip: depending on where your journey takes you, it's best to bring along supplies like traction mats and chains, a couple of window ice scrappers, jumper cables, extra batteries or a portable generator, weather radio, rain gear, extra food and water, blankets, etc. It is also important to ensure your truck has plenty of fuel and all roadside warning cones and flares are present and in good condition. First-aid kits are always a good idea. If you are currently carrying the above items, we suggest doing an inventory to make sure everything is where it should be and in good working order. It only takes a few minutes to be safer.
Drive slowly: many road mishaps can be avoided by commercial truck drivers by slowing down and keeping plenty of distance between your truck and the vehicles in front of you. At lower speeds, a driver is able to adequately monitor the condition of the road ahead and react better to sudden changes in conditions or mistakes made by other drivers.
Black ice on overpasses and bridges: when the temperature of a wet road surface is hovering around freezing, a thin layer of transparent ice called black ice can form. Black ice is very slippery and causes more accidents because drivers are not prepared. Bridges and overpasses are notorious spots for the formation of black ice because temperatures affect from above and below, making it faster for ice to form. Areas under overpasses are also more vulnerable because they are more insulated from heat or additional rain to help keep the surface from freezing.
Communication: A great way of learning future road and weather conditions is by asking drivers coming from the other direction. When driving in remote areas that have constantly changing weather, you should share your itinerary with loved ones and indicate where approximate stopping points are and when you are scheduled to reach your destination.
Roadside Assistance: Commercial truck roadside assistance is cheap and well worth having. Need a tow or to be pulled out of the ditch? Need a jump or flat tire fixed? Buy roadside assistance, it's cheap insurance for the benefit.
Get off the road: no matter how experienced you are as a commercial truck driver, the best thing to do during inclement weather conditions is to get off the road. Your life and the lives of everyone around you should be your first priority.
Visit the FMSCA to learn about driving too fast for conditions.
Even after taking all necessary precautions, you may still end up falling prey to the elements. Make sure you and your trucks are adequately covered. Buy Commercial Truck Insurance – How to Guide.